Get ready for the ride of your life. Introducing SlacklifeBC's new nylon webbing, Sky Pilot – a line that transforms walking into flying. Taking control and floating in the air on this webbing is a chance to create your own aerial playground. Like to surf, bounce and dance 1000ft up in the air? Sky Pilot is your new friend. And, as any good friend would, it will catch you in the most gentle way possible with its soft, silky smooth edges. You guys are going to have a lot of fun!
Designed and manufactured 100% in Canada, continuous lengths of over 1000 meter are now available
Minimum Breaking Strength (MBS): 32 KN (7200lbs)
Working Load Limit (WLL): 6.4 KN (1440lbs)

Webbing Weight: 53 g/m
Stretch: 10-14%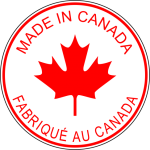 Now added Sewn Loops to your webbing!
Now IN STOCK!